Fellowship for everyone in Aalborg East
Family Network is a social program and free activity for families and singles who need a network, fellowship and support. Family Network is arranged together with Blue Cross. We meet together, do fun activities together, talk, and eat together. Everyone is welcome. Come every second Tuesday in equal weeks from 4.30PM – 7PM.
Help during Christmas time
Every year we help people in the local community who have a hard time financially making ends meet. You cannot apply directly for Christmas Help with us, as we cooperate with social counselors in Aalborg East, to find the people who have the greatest needs.
If you wish to help with handing out the food and prepairing please contact tsam@fintc.dk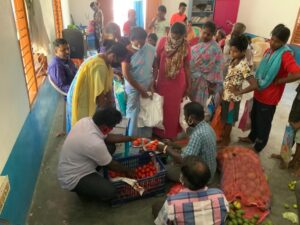 Development and humanitarian aid abroad
Every year we cooperate with organizations and churches abroad to help with different projects and urgent needs. We have build wells in India, handed out food during Christmas, clothes and toys in Nigeria, India, and the Philippines. We have sent different equipment to the Ivory Coast and supported orphanages in Kenya, Ghana, and Tanzania.
If you wish to cooperate or contribute til our work internationally please contact tsam@fintc.dk